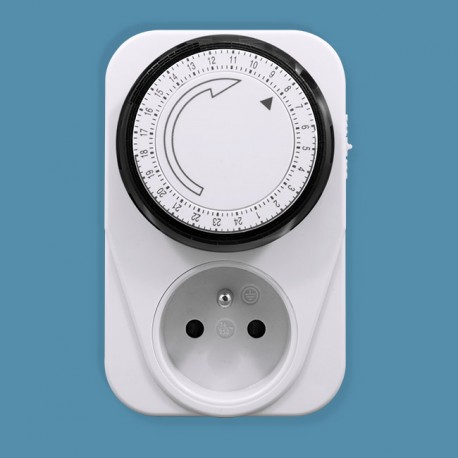  
Timer socket for Facilotab
Save money with this box which automatically cuts the charger of your Facilotab.
An ultra simple timer!
Define the time slot during which your tablet will charge. Then plug in your tablet. The loading stops when you decide.
This will prevent your tablet from staying plugged in for too long, preserve the battery .
Manual:
Turn the inner dial clockwise and position the cursor to the current time.
Example: At 11 o'clock, please place the dial on 11 and quickly plug in the box.
To set the timer, use the black segments around the dial; press the black segments to define the time range in which the timer must operate. Each segment represents a quarter of an hour.
Technical data sheet :
Dimensions (L / W / H): 120 x 72 x 75 mm (plugged in)
Power supply: 230VAC / 50Hz
maximum power: 3000W / 10-16A
2 possible modes: continuous power supply or timer mode
Weight: 152g
Non contractual photo
COURT_FACILOTABACCES_MINUT2_
You might also like