The Facilotab team has always made every effort to offer you the best in simplified and accessible digital technology for everyone. This is why Facilotab is the only interface that has been specifically designed for beginners of all ages.


Indeed, the interface has been tested and approved by seniors and health professionals. It is the most complete system developed to help people with a loss of autonomy. But it is not limited to this, Facilotab adapts and evolves according to the user, allowing the whole family to easily keep in touch, even from a distance. !


That's why we're bringing you new features today.

With the proliferation of social applications, we can interact by email, instant message, group, audio, video, and this with several different applications… This is rather good news for our social lives! But it's not always easy to find your way around, for people who are not used to it…


So we warmed up our pens to simplify all that… This is how Facilotab now offers the " Contacts " function. ". A clear solution, organized by contact form and accessible directly from the home screen. Select a person and find all the possible actions, just by clicking on his name.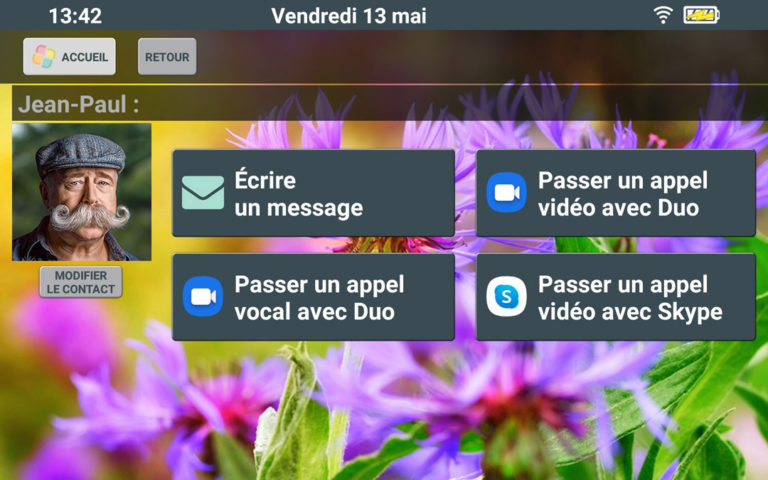 To make a Google Duo video call to Jean-Paul, press the corresponding button. The application opens and launches the call directly. There is nothing could be simpler and faster ! Of course, it only displays the possible actions for each contact.
No more fear of doing something stupid or questions like: Which application to use? How to find his contact? or which icon is used for the video? Just touch the contact you want to reach!
NOTIFICATIONS, SO YOU DON'T MISS ANYTHING
The applications installed on our tablets communicate with us. All smartphone users will tell you, it's even a lot of stress sometimes. This is why until now Facilotab did not take into account
notifications
, so as not to invade your screens unnecessarily with your messages, but also ads, news, application updates, etc.
But some messages remained unanswered. So we decided to find a solution, with Facilotab sauce " sure ! Finally, users will no longer miss messages or calls received while avoiding overdose.
As with messages, unread information will now be marked with
a red dot
with their number shown in a corner of the app button. But we took the function a step further, as you will be able to choose either to open the application normally by touching it, or to activate a function " notification summary ".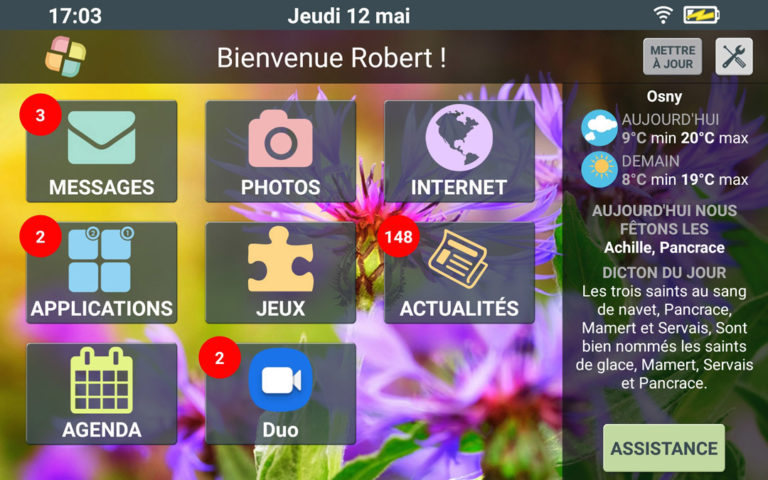 When enabled, this option will display for each notification, the sender, when the notification is from, the start of the message, and action buttons such as "read message", "close" or "mark as read".
Another significant option of this novelty is the possibility of displaying
live
the summary as soon as a notification arrives. Do you receive an instant message from the "Family" group on WhatsApp while you are playing solitaire? Facilotab opens the WhatsApp notifications summary page and you can choose an action to perform. Once done, you are back to your game… Of course, only apps that you have previously set as
important
will have this possibility. Thus, we limit untimely requests while remaining alerted to important information that has arrived.
Latest addition to the list, the "News" application.
Thanks to Facilotab, you will be able to keep an eye on the world!
Searching for the information that interests you on the Internet can be long and tedious, especially when you don't know how to search… You can also subscribe, to receive emails from sites specializing in the themes we like, but it's invasive in the long run!
Facilotab offers its solution, economical, simple and fully customizable! The articles arrive directly on the tablet, in the "News" section and listed in chronological order. You receive a discreet alert news with the red notification bubble. It tells you the number of unread articles. Several categories are available like sport, news, cooking, etc… And you can choose the ones that interest you only thanks to the buttons.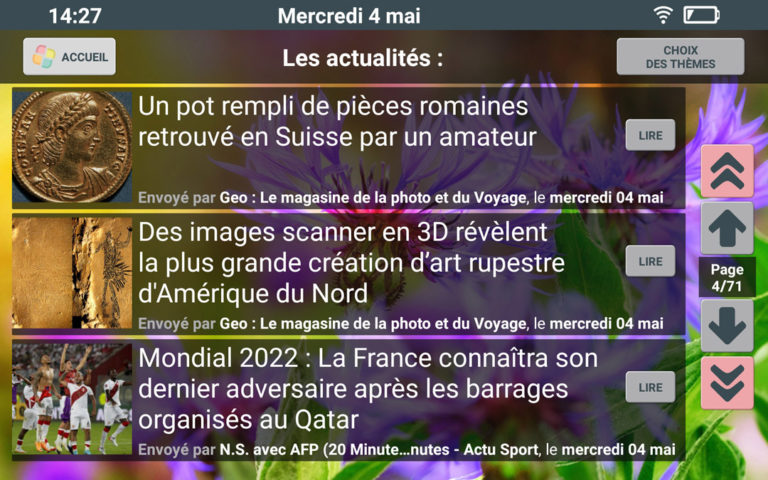 Good to know :

These new functions have been developed in addition to the "standard" updates of the Facilotab system.

Despite everything, they will be included automatically and free of charge in the versions implemented from November 15, 2021.

For older customers, they are available as an option, as a pack priced at €14.90, available now on the online store.