THE SIMPLIFIED TABLET FOR SENIORS
DISCOVER SIMPLICITY FOR EVERYONE
Facilotab are simplified ready-to-use touch tablets, it is also a system that can be installed to transform a tablet into an easy tablet.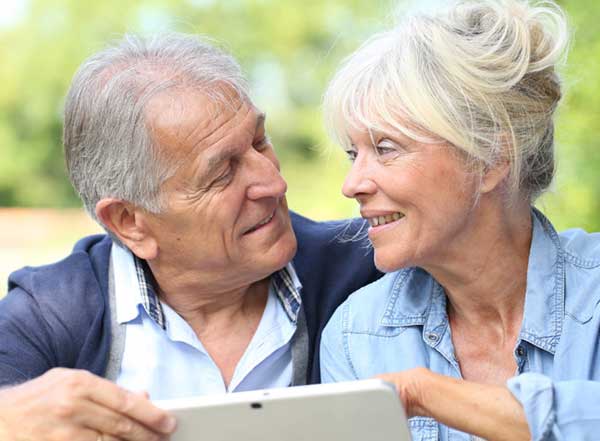 With Facilotab, you have simple and modern equipment with simplified messaging for send and receive e-mail and photos ! Communicating with loved ones becomes child's play even for computer novices.
Thanks to simplified and adapted web browser , enjoy the Internet with complete peace of mind. The tablet has a system of filters that protect users from the risks of the web. No mishandling is possible!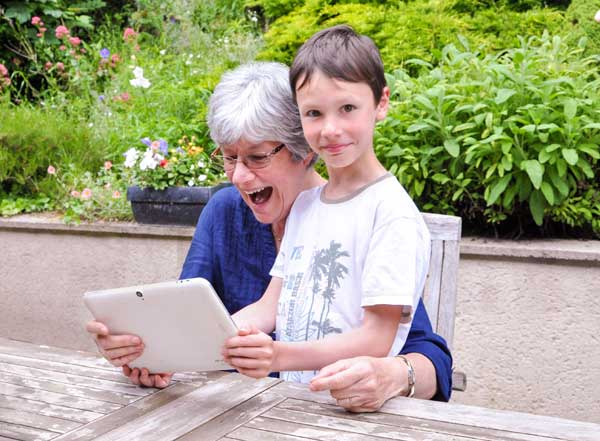 A MULTITUDE OF APPLICATIONS
AN EXCLUSIVELY SIMPLE AND EASY-TO-USE INTERFACE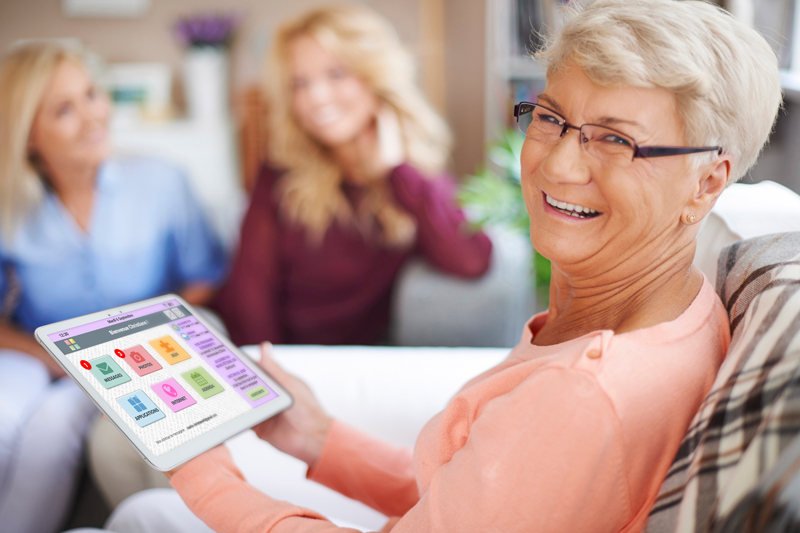 A simple and efficient home page and a clear interface brings great readability and great simplicity! All the essential functions of a tablet are summarized in large buttons on the home page. No risk of getting lost!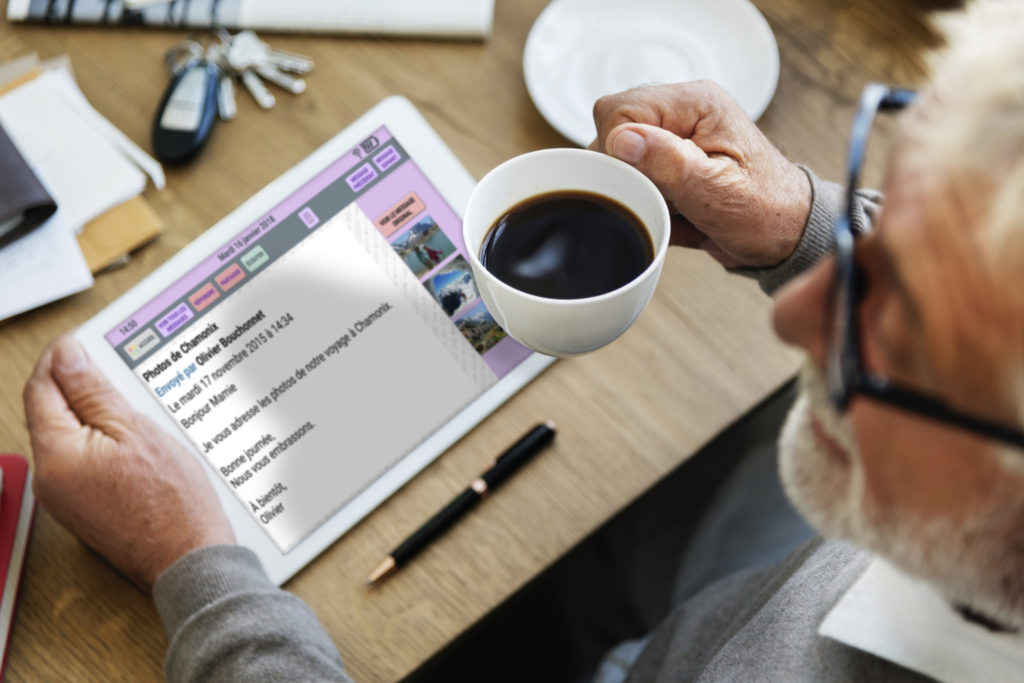 The application screens have been simplified. The action buttons are clearly identified and always contain a word in French. The touch screen has been reworked to accept the slipped touch, or the double touch… The keyboard can be either Azerty or Alphabetic.
J'ai participé à une démonstration de cette tablette, elle est vraiment très bien adaptée pour les débutants, seniors ou pas.

A l'occasion de mes 106 ans, ma fille et mon gendre m'ont apporté une Facilotab. Après une démonstration, j'ai dit : « c'est ça qu'il me faut, je la garde ». Avec quelques conseils prodigués à distance par mon gendre, je me suis très vite habituée et c'est devenu pour moi une vraie compagnie [depuis plus d'un an].

Je sais me servir d'un ordinateur mais J'aime bien ma tablette Facilotab, car c'est plus facile et plus rapide de lire mes messages. J'utilise aussi beaucoup les appels vidéo avec mes petits enfants.

J'adore ma tablette.... le jour.... et parfois la nuit .... ( c'est mieux que des somnifères !!!).........

Les seniors qui suivent mon atelier apprécient beaucoup cette tablette. Je leur fait 12 h d'ateliers sur 6 semaines et ensuite ceux qui le souhaitent peuvent continuer pour des mises en situation.

J'adore aussi ma tablette cela permet aussi de rester en connections avec les petits enfants et la famille et même les copines qui ont Internet.

Je suis plus jeune et utilisateur de cette tablette, et de son graphisme et fonctionnement est adaptés à tous les utilisateurs non aguerris aux méandres informatiques.

adjointe de direction, EHPAD « Maison du Parc », Saint-Ouen-l'Aumône

La tablette Facilotab est un merveilleux outil pour le maintien des liens… Simple d'utilisation, très intuitive, les personnes âgées se sentent en confiance et oublient rapidement leurs craintes d'être mises en difficulté face à la « nouvelle technologie ».

Maman ne lâche pas sa tablette elle est ravie 😜 par contre j ai rajouté une carte mémoire pour lui mettre plein de jeux [...] 👍🤪

C'est ma fille qui m'a offert ma tablette Facilotab à l'automne dernier. Je n'avais ni ordinateur ni téléphone portable mais je n'ai pas eu de mal à apprendre à l'utiliser. Je m'en sers tous les jours pour lire mon journal préféré et apprendre tout ce qui se passe autour de chez moi.

Tablette géniale ! La prise en main est aisée et très simple pour l'accompagnante que je suis. Les personnes se sentent en confiance et à l'aise de suite

J'ai recommandé cette tablette à ma mère qui a 77 ans et c'est une réussite. C'est facile d'accès, tout est ciblé, elle est ravie et moi aussi car je peux la dépanner à distance en intervenant directement sur sa tablette grâce au logiciel Teamviewer.

Magnifique ! Bravo pour votre travail ❤

Idée géniale. Mon père va avoir 100 ans. Il délaisse son ordinateur depuis deux ans ... trop long à démarrer etc .. par contre une tablette comme celle ci me semble simple à utiliser et lui redonnera un petit coup de jeunesse. Futur cadeau 🎁

@Facilotab pour info, grâce à facilotab ma maman m'a envoyée ces premiers mails ....... merci 🙏

Pour des personnes qui n'ont jamais été sur un ordinateur ou tablette, c'est génial, trés simple a utilisé

Nous aimons toujours.... Le partage de photos avec notre fille trisomique, quand nous sommes loin est....magique!!

Lepied@L'étrier à Noblecourt

Idéal pour faire du Numérique un Lien Social et Intergénérationnel 🙂

Très pratique pour ceux qui n'ont jamais eu d'ordinateur avant 100 ans

Tres bien je l'ai acheté a ma maman il y a 2 mois [A cause d'un défaut de chargeur, j'ai dû la] renvoyer et 8 jours plus tard j'en recevais une neuve car trop long à réparer [...]. Je vous recommande ce site

Ma maman s'est mise à internet avec cette tablette et ça lui convient tout à fait, elle a 84 ans et je dis bravo

C'est une tablette pour les personnes qui ont du mal avec internet (il n'y a pas de mal à cela), mais surtout pas spécialement pour les seniors dont certains maîtrisent mieux internet que les juniors (et la plupart du temps, ils ne font pas de fautes d'orthographes).

Ma mère a 87 ans ; je lui ai acheté cette tablette, elle adore !

Les seniors qui ont des pb de santé apprécient.

La tablette est simple d'accès, on y trouve des points en commun avec mon téléphone portable, pas de difficultés, on comprend facilement.

J'aimerai accéder aux réseaux sociaux pour voir et échanger les photos avec mes enfants et petits-enfants.

Je recommande, offert à Noël 2018 à ma mère qui a 75 ans et super elle s'en sert bien.
A DIGITAL SLATE TO COMMUNICATE WITH LOVERS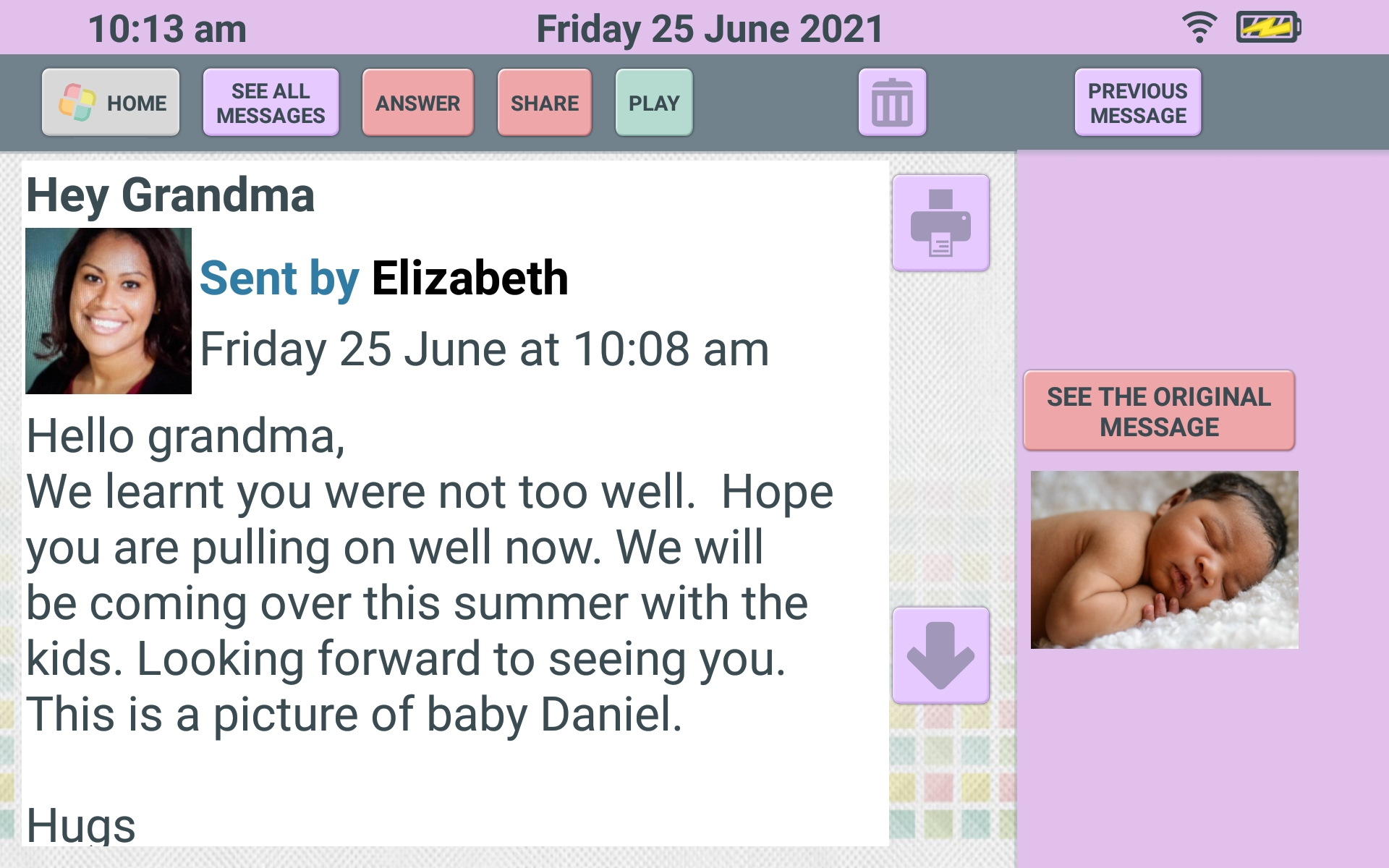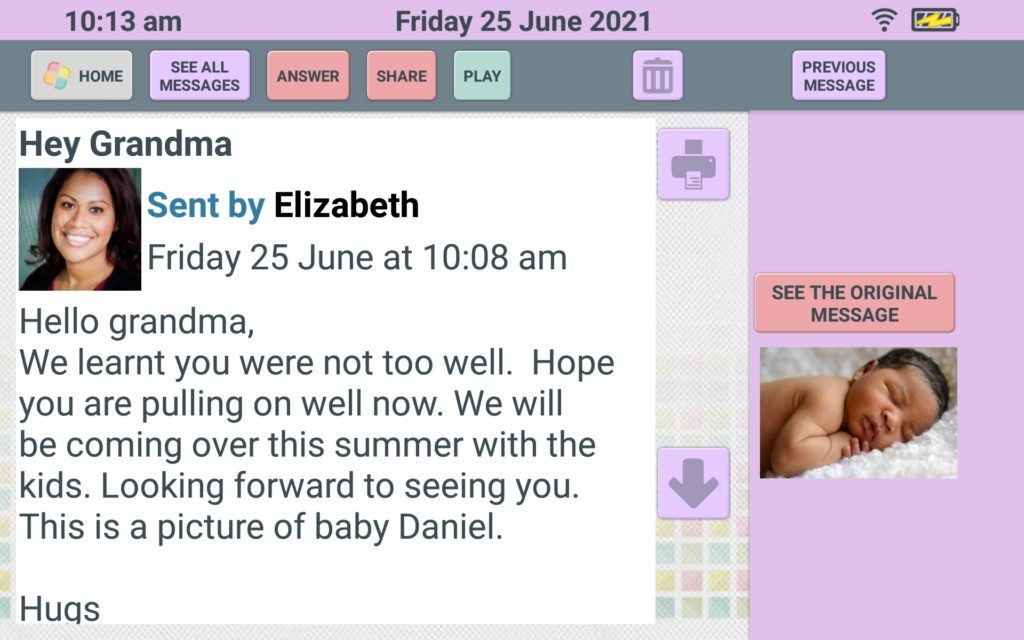 Easy access to messages to hear from his relatives …
Easy viewing of messages and photos. Writing or replying is very easy.
To look at family photos becomes child's play thanks to Facilotab!
With one click, you can access the photos received! No registration to do, it's automatic …
ENTERTAINMENT AND ENJOY THE INTERNET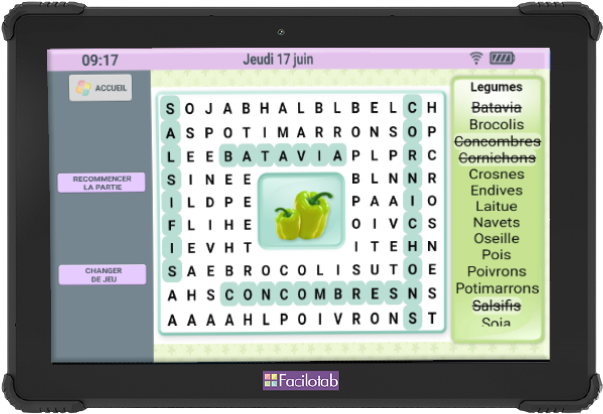 The tablet has challenging games for fun , a simple button allows you to access it… Sudoku, crosswords, letters, numbers, logic and speed games for fun!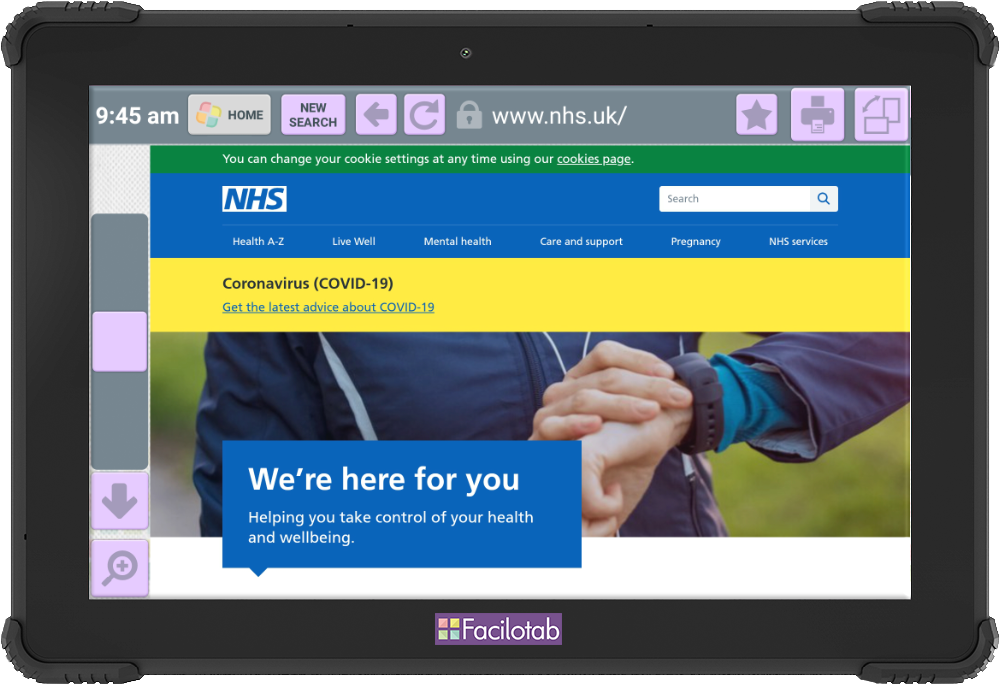 Thanks to Facilotab browser , going to a site or doing a search is easy. You can quickly access all the sites and favorites that have been put in favorites.
SENIOR TESTED AND APPROVED!
Ease of installation and use, intuitive handling… The label, developed by AFNOR Certification, indicates that Facilotab is ergonomic, adapted to the capacities of the greatest number of people and in particular the oldest people. Novice users and professionals consulted unanimously appreciated the use of this tablet, which they described as intuitive, emphasizing its ease of use and practicality.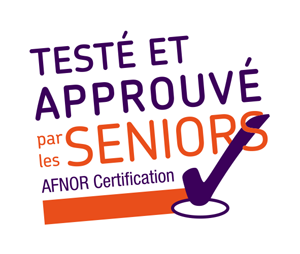 FACILOTAB TABLET PRESENTATION VIDEO
Get connected easily with the Facilotab tablet
THE ADVANTAGES OF FACILOTAB
A TABLET WITHOUT SUBSCRIPTION
Once the tablet is purchased, you do not have to pay an additional subscription with Facilotab. You can connect to the internet for free via WiFi via an internet box. You can also choose your telephone operator for 3G / 4G access. Good plan: Some operators offer a 2nd SIM card for the tablet.
Large, simple and user-friendly home screen
Adjustable character size for comfortable reading
Automatic saving of received photos in the gallery
Possible filtering of messages with only those from known contacts for effective protection
Easy reading of all the attachments of your messages: videos, music, PDF documents …
Possibility to install all Android applications ( games , news, music, television, radio …)
A PRE-INSTALLED ANDROID TABLET WITH THE SIMPLIFIED SYSTEM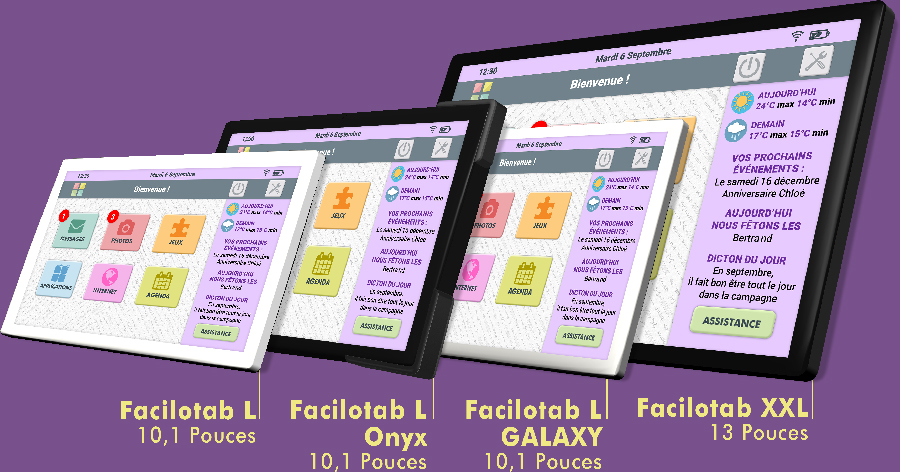 Several tablet models are available: All have WiFi to connect at home, at the restaurant, at your loved ones. Prefer models with the 3G or 4G option to connect anywhere on the go.
THE FACILOTAB SYSTEM TO INSTALL ON YOUR TABLET
Do you already have a touchscreen tablet with Android? It is possible to transform it thanks to the Facilotab system, your tablet becomes a simplified tablet ideal for beginners: Simplified access to messaging, Internet, and all Android applications.
A SECURE WEB INTERFACE FOR CAREGIVERS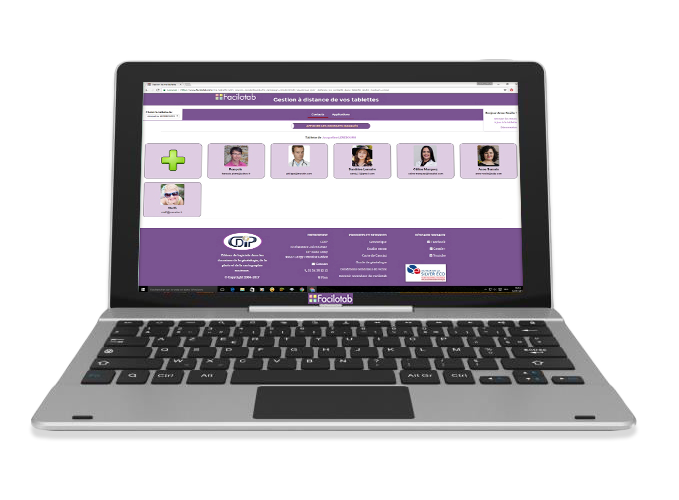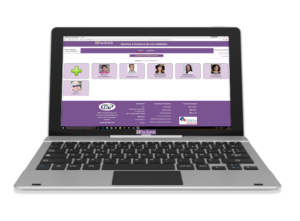 One helping is a person registered in the contacts of a Facilotab tablet, possibly a relative.
But above all, he is a person who feels comfortable with the Internet and touchscreen tablets and who has a personalized and secure access to a web page, allowing it to remotely manage usable contacts and games by the user of the Facilotab tablet.
IS THE FACILOTAB TABLET SUITABLE FOR SENIORS?
Totally! Facilotab tablets can accommodate users of a wide variety of skill levels. Some will be content with very limited and controlled use, while others will quickly do everything with Facilotab that can be done with an unsimplified tablet. Tablets are easily adaptable to the capabilities and needs of their users. In addition, they remain fully functional Android tablets and can be used as such.
Facilotab has joined Silver Alliance, a group of companies that market solutions intended for seniors, complementary to each other and which, together, make it possible to consider aging at home with peace of mind. Its goal is to inform seniors – but also their loved ones and caregivers – about existing solutions to improve their quality of life at home: leisure, housing, health … Discover the solutions selected by Silver Alliance and recommended by Facilotab in The guide to living well and aging well at home Or on www.silveralliance.com
THEY TALK ABOUT FACILOTAB ...