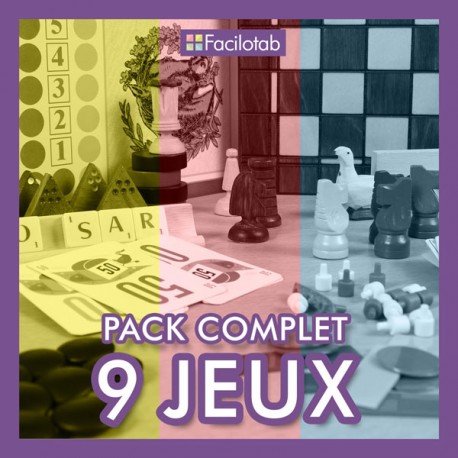  
Pack of 9 games specially for Facilotab
9 games for the Facilotab tablet. Games of memory, skill, speed, logic ... These games are well suited to the Facilotab interface. Some are very simple, others more sophisticated to meet everyone's expectations.
Included:
The games in the Deauville pack
Proverbia : Reform proverbs by putting the words back in the correct order. You can increase or decrease the difficulty level by choosing the number of words to replace.
Défimo : Take a good look at the letters drawn at random, and try to put together words of 3 or more letters. The longer the words found, the more points you earn.
Darpion : First choose the grid you want to play on. Then select your opponent: the tablet or another player next to you. Be the first of the two to line up 5 of his pawns.
The games in the Annecy pack
Cut Words : Find the 2 parts of the same word as quickly as possible by touching the 1st part then the 2nd.
Imagine : Test your speed by finding as quickly as possible the name of the objects represented in the images. To associate them, touch the requested word then touch the image afterwards or vice versa.
Familiduo : A memory game. Find the pairs of associated objects.
The games in the Biarritz pack
Completo : Find the missing words of the poems.
Reflexo : Test your speed by finding the image corresponding to the indicated word as quickly as possible.
Solitaire : Reconstitute 4 piles of cards in each suit, from king to ace, from 7 columns of cards turned upside down. The most famous of the card games.
TELEC_FACILOTABACCES_JEUXPKABD_
Data sheet
PointClef1s5

9 jeux complémentaires pour la tablette tactile Facilotab, spéciale Senior

PointClef2s5

Jeux de mémoire, d'adresse, de rapidité, de logique...

PointClef3s5

Solitaire, Defimo : Jeu de lettre, Darpion : Aligner 5 pions, Familiduo : Retrouver les paires

PointClef4s5

Parfaitement intégré dans l'interface Facilotab

PointClef5s5

Activable à distance par le compte de l'aidant sur le site facilotab.com