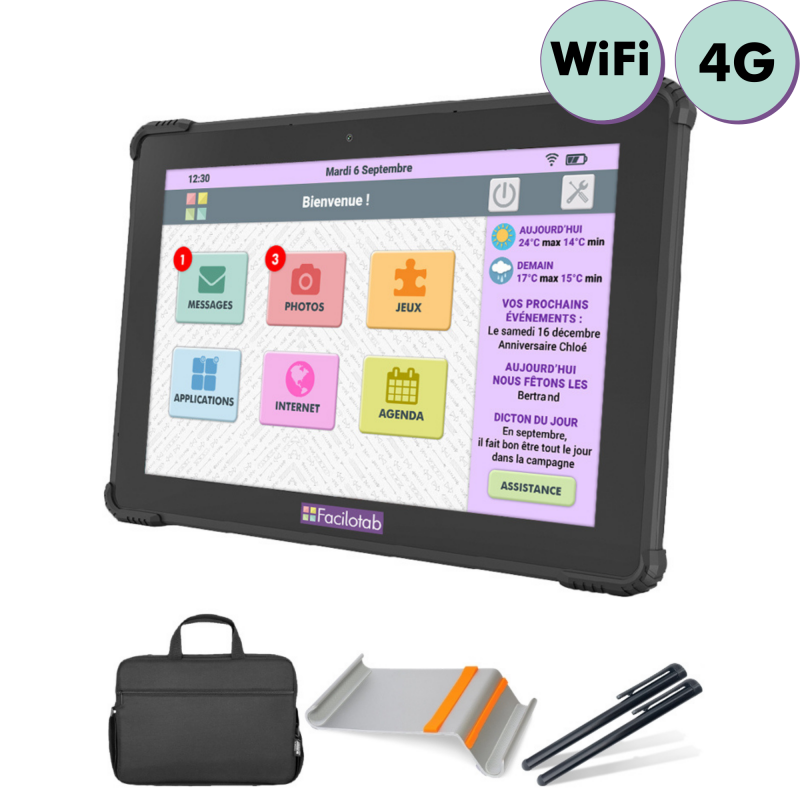  
Facilotab L Onyx Pack - WiFi/4G - 32 GB - Android 10 - Support, Satchel and 2 Styluses - Simplified tablet for Seniors
Reinforced corners - Hardened shell - large 10.1" HD screen - recommended for Skype - 2 speakers for quality sound - 4G SIM slot - Dual camera - 2-position aluminium stand - magnetic cable.
Facilotab is a simplified tablet allowing a quick start. It is a simple and modern device with a simplified messaging system for sending and receiving e-mails and photos! Communicating with friends and family becomes child's play, even for beginners.
Thanks to the simplified and adapted web browser, enjoy a completely secured internet. The tablet has an Internet filter system that protects users from the risks of web hackers. No mishandling is possible! Finally, all the applications in the Google Play Store can be downloaded from Facilotab tablets. So increase the possibilities of your tablet at your convenience.
Simplified tablet for seniors:
- 10.1 inch screen (25.65 cm)
- Shock-resistant hard shell
- Reinforced corners to reduce risks
- 1280 x 800 pixel resolution
- 32 GB memory (micro SD port up to 64 GB)
- All Android apps
- Facilotab system installed
- 1 slot for inserting a SIM card (Micro size)
- Powerful speaker
- Weight: 730 grams
- Android 10
- Dimensions of the tablet without packaging (LxWxH): 265.4mm x 13.4mm x 181mm
Technical details:
- 3.5mm audio output jack for connecting headphones or speakers
- Micro USB connector for connecting a USB stick or computer
- 1 x 2 MP front facing camera and 1 x 5 MP rear facing camera for great pictures
- 1 SIM card slot (micro size)
- USB C connector for the charger (reversible plug) easier to handle
- Archos tablet brand
Included in the box :
- 1 Tablet with Android and Facilotab system installed
- 1 Charger to recharge the tablet's battery (via the USB port)
- 1 USB cable
- 1 User guide in French
- 1 Aluminium stand with 2 positions that offers a nice tilt and stability to the tablet
- 1 Foam padded bag with a side pocket
- 2 Stylus pens
- 1 2m magnetic cable for easy charging of your tablet battery
The advantages of Facilotab :
- Simplified system that has been tested and approved by a wide audience
- Includes free updates of the Facilotab system
- 30 minutes of free telephone support
- Remote access to the tablet for authorised family members (installation of applications, contact management, etc.)
- No subscription required
- Software and application designed and developed in France
- 2-years manufacturer's warranty
COURT_FACILOTABPK_W4G-SENS101v2_
Data sheet
Couleur

Noir

MemoireStockage

32

DefEcran

1280x800 p

TailleEcran

10,1

MemoireRam

2

CameraAvantRes

2 mp

CameraArriereRes

5 mp

ReseauCellulaire

4G

TypeProcesseur

MediaTek Cortex-A53 MT8735

NombreCoeur

4 coeurs

ProcesseurVitesse

1.3 Ghz

PointClef1s5

Grand écran renforcé de 26,5 cm de large - Connexion Internet par WiFi et 4G

PointClef2s5

Système simplifié Facilotab installé - Android 7 - Mémoire 32 Go - Double caméra 5 MP / 2 MP

PointClef3s5

2 haut-parleurs pour un son de qualité - Recommandé pour Skype

PointClef4s5

Messagerie simplifiée, Galerie photo automatique, Navigateur internet simplifié et adapté, Accès à toutes les applications par PlayStore

PointClef5s5

Accès à la plateforme d'aide à distance par les proches

CapaciteBatterieMAh

6000

PoidsProduit

0.730

DAS membre

DAS tronc

TitreLDLC

LDLCsousTitre

ExtMemStockage