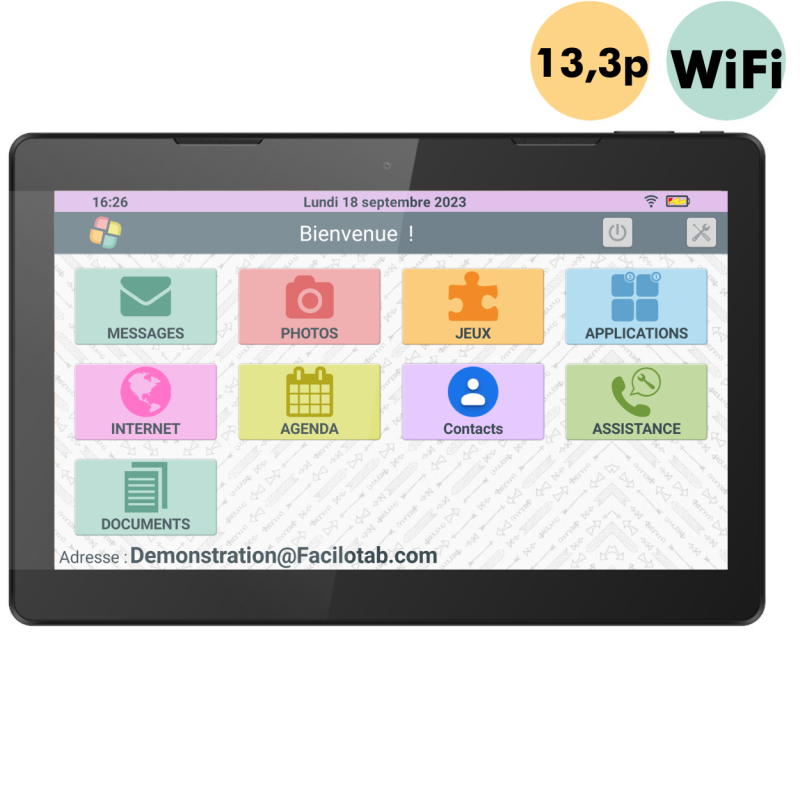  
copy of Facilotab XXL - WiFi - 32 GB - Android 10 - Very large screen - Case - Simplified tablet for Seniors
Ideal for home internet browsing - extra large 13.3" HD screen - recommended for Skype - 5 MP / 5 MP dual camera
Facilotab is a simplified tablet allowing a quick start. It is a simple and modern material equipped with a simplified messaging service to send and receive e-mail and photos! Communicating with loved ones becomes child's play even for computer neophytes.
Thanks to the simplified and adapted web browser , enjoy the Internet with complete peace of mind. The tablet has a system of filters that protect users from the risks of the web. No mishandling is possible!
Finally, all the applications present in the Google Play Store can be downloaded on Facilotab tablets. Increase the possibilities of your tablet to your liking.
Simplified tablet for seniors with a large 13.3-inch screen (33.6 cm wide)
- Large screen 13.3 inches (34 cm)
- 1920 x 1080 pixel resolution
- 32 GB storage memory
- 3 GB RAM
- All Android apps
- Facilotab system installed
- Weight: 1045 grams
Technical details :
- 3.5 mm Audio Output Jack for connecting headphones or a speaker
- Micro USB connector to connect a USB key or a computer
- Rear-facing camera/video: 5 Mp
- Front camera/video: 5 Mp
- Powerful battery to play more than 6 hours of video
- Dimensions of the tablet without packaging (LxWxH): 33.6cm x 1.2cm x 22.1cm
Included in the box:
- 1 Tablet with Android and Facilotab systems installed
- 1 Charger to recharge the battery of the tablet: round plug easy to place
- 3 USB cables: 2 USB C to USB - Micro USB to USB
- 1 User Guide in French
- Manufacturer guides
The advantages of Facilotab:
- Simplified and proven system with a wide audience
- Includes free Facilotab system updates
- 30 minutes of telephone assistance offered
- Remote access of the tablet for authorized relatives (Installation of applications, management of contacts ...)
- Without subscription
- Software and application designed and developed in France
2 year manufacturer warranty
Optional :
We recommend the 2-position aluminum support which offers a good inclination and good stability to the tablet.
COURT_FACILOTAB_W-HANZE2-133_
Data sheet
Couleur

MemoireStockage

DefEcran

TailleEcran

MemoireRam

CameraAvantRes

CameraArriereRes

ReseauCellulaire

TypeProcesseur

NombreCoeur

ProcesseurVitesse

PointClef1s5

PointClef2s5

PointClef3s5

PointClef4s5

PointClef5s5

CapaciteBatterieMAh

PoidsProduit

Android

DAS membre

DAS tronc

TitreLDLC

LDLCsousTitre

ExtMemStockage
You might also like